Archaeological Observation, Cheltenham
Border Archaeology carried out Archaeological Observation of ground-works at a site in Cheltenham prior to the construction of an extra-care assisted-living facility comprising 54 apartments, two guest/staff bedsits and communal residents' facilities.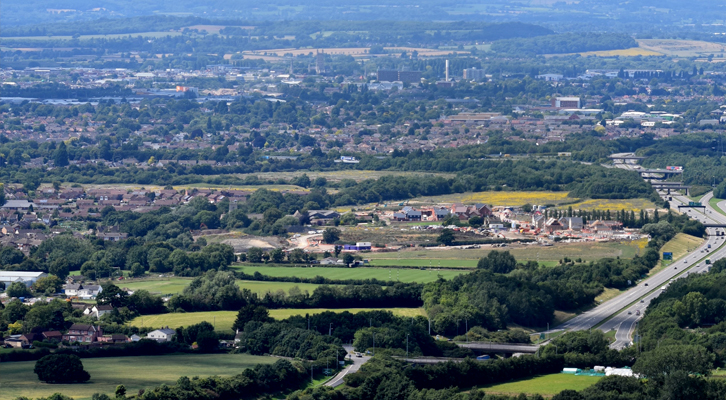 In Brief
Client:
Development Company
Sector:
Construction
Services:
Archaeological Observation
Location:
Cheltenham
Key Points
The aim of the Archaeological Observation was to record any surviving below-ground archaeology revealed during ground disturbance associated with the development. The objectives were:
identify all archaeological remains revealed during the course of ground disturbance within the affected area
ensure preservation by record of all archaeological remains revealed during the course of this ground disturbance
prepare an appropriate archaeological archive of the site including the treatment and preservation of any finds
Summary
The site was reduced to a consistent level of 54.2m AOD, which necessitated removal of up to 1.5m of material at its south-western extent. Modern demolition material was found to overlie post-Second World War landscaping deposits, which, in turn, overlay late post-medieval (c. 1800-1900) subsoil or clean garden soil. A number of late post-medieval buildings and a well were revealed at this level. 
A series of pits were also revealed, including several dumps of bottle glass. These features were probably associated with the wine and spirits warehouse or the brewery which previously occupied the site and which were damaged during air-raid attacks in 1940 and subsequently demolished. No earlier features were revealed at this level. 
A second stage of ground-works carried saw the site level further reduced and also involved the excavation of pile-pits and the former cellar. Reduction was again carried out to a constant level with up to 1m of material removed across the reduced area and between 1m and 2.5m in the pile-pits and cellar excavated at this reduced depth. Natural sands were attained at a depth of approximately 53.80m AOD, although these were truncated in the vicinity of the former cellar. Overlying this was a thick disturbed sand layer, probably representing a late post-medieval soil horizon. A single feature was revealed during this stage of the ground-works: a deep pit in the southern portion of the site, which was filled with bottle glass. This was contemporary with two pits filled with similar material found during the initial ground-works stage.
Results
No evidence of the medieval settlement activity identified to the NE on the neighbouring site were revealed and it is confirmed that no significant archaeological deposits were adversely affected by the ground works required in preparation for the proposed development.