Archaeological Field Evaluation (Trial Trenching), Gloucester
The medieval surroundings of Gloucester Cathedral, as part of Heritage Lottery funded 'Project Pilgrim', provided the stage for a detailed programme of ground survey and evaluation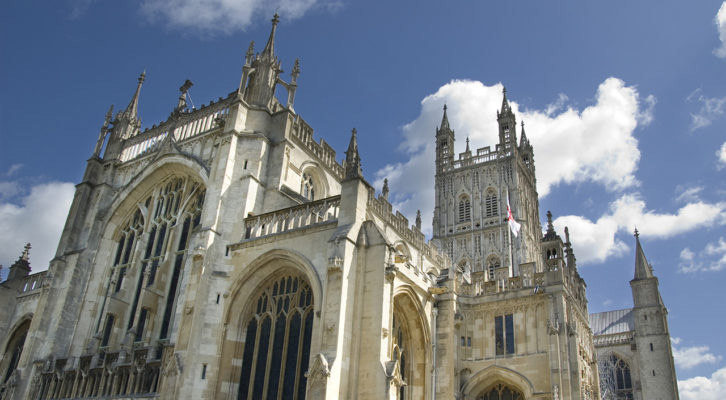 Key Points
HLF funded 'Project Pilgrim' renovation works
Trial trenching of Upper College Green prior to landscaping Cathedral Close
Archaeological investigations in the North Transept relating to lift installation
Burials during both phases of archaeological investigation
Summary
The first of 2 phases of work comprised trial trenching in Upper College Green prior to landscaping works. Focusing next on the North Transept we conducted a Ground Penetrating Radar survey and archaeological investigation to record any evidence of burials and structural remains likely to be impacted by lift installation works.
Skeletons were revealed in the Upper College Green reflecting its use as a burial ground until the 18th century. A late 17th, or early 18th, century inscribed ledger stone was also found indicating further burial activity
The North Transept revealed a hidden charnel deposit containing the remains of at least 7 individuals, possibly disturbed during the construction of a nearby vault. A well preserved lead coffin, bearing an inscription dating to 1723, was also encountered.
Results
Skeletons were revealed in the Upper College Green
The North Transept revealed a hidden charnel deposit containing the remains of at least 7 individuals