Archaeological Programme of Works, Bristol
Building on a long-standing partnership with the Water industry, we completed our archaeological programme of works within agreed timescales, ensuring pipeline works were completed on schedule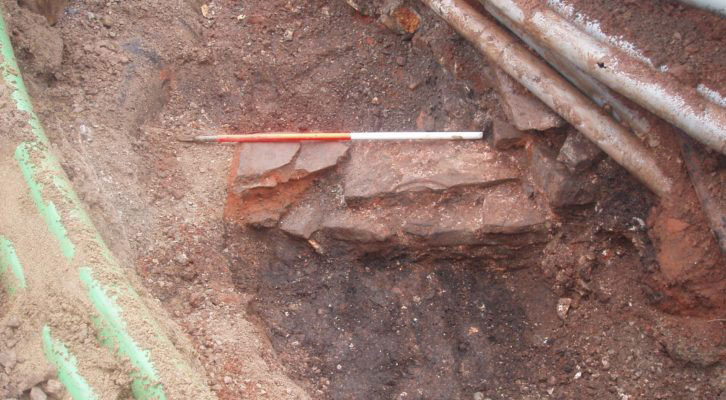 Key Points
Sensitive site - known area of archaeological potential in central Bristol
Watching Brief carried out subsequent to our DBA
Structural remains of Medieval origin identified along with evidence for early Post-medieval glass-working
Summary
We initially undertook a Desk Based Assessment of the proposed water mains pipeline which identified that it extended through an area of Moderate to High archaeological sensitivity within the medieval suburb of Redcliffe and Temple (in central Bristol) and along the south and east fringes of the medieval suburb of Old Market in close proximity to the line of the 'Great Ditch', dug in the late 12th/ 13th century to defend the Old Market suburb.
Following our Desk Based Assessment, we undertook a Watching Brief on groundworks associated with the mains replacement scheme. All the pits exhibited evidence of disturbance by modern road construction works and service trenching; nevertheless, significant archaeological remains were identified in six of the pits excavated.
Results
Within several of the pits, remains of sandstone masonry walls were recorded.  These are likely to have been associated with the foundations or cellarage of late medieval or early post-medieval houses.
Possible evidence of industrial activity was also revealed in one of the pits, represented by several well-stratified deposits rich in vitrified fuel waste and clinker interpreted as evidence of 17th or early 18th century glass production.