Archaeological Standing Building Recording, Surrey
Border Archaeology (BA) was commissioned to undertake a programme of Archaeological Standing Building Recording to Historic England Level 3 for a group of traditional agricultural barns of 18th-20th century date at Bagden Farm, Polesden Lacey, the results of which can be briefly summarised thus: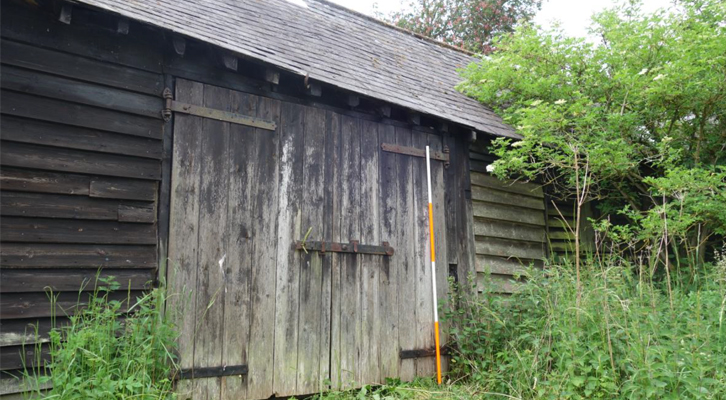 In Brief
Client:
National Trust
Sector:
Historic Buildings
Services:
Archaeological Standing Building Recording
Location:
Surrey, South East England
Key Points
A complex of traditional farm outbuildings of 18th/20th century date at Bagden Farm, forming part of the National Trust estate at Polesden Lacey, near Dorking (Surrey) were recorded by BA prior to demolition and the construction of two new holiday cottages on the site.
No previous archaeological investigations are recorded and the Site is considered low in terms of archaeological potential for all periods apart from the post-medieval, with any buried remains likely to have been impacted by 19th-20th century development activity associated with intensive redevelopment of the farmyard carried out during the mid to late 19th century and subsequent demolition and new building works in the second half of the 20th century.
Summary
Phase 1 (late 18th century): The earliest surviving fabric appears to be represented by the gabled single-storey western range, six bays long and of flint masonry construction with brick quoins and a weatherboarded frontage. This barn can be identified with a structure shown in this location on the Great Bookham parish map of 1797-98, forming the western range of a small 'loose courtyard' plan farmstead. 
The interior of this barn has been subject to extensive alterations, with the insertion of a modern concrete floor and a brick chimneystack and fireplace at the northwest end of the barn. Architectural evidence suggests it was used as a cart shed and for the storage of agricultural produce. 
Also attributable to this phase of building activity is the east gable end of the southern open-fronted range, built of roughly coursed flint masonry, which appears to represent the remains of a barn which formerly occupied the southern end of the yard as shown on the 1797-98 map and was largely demolished at some time between 1896 and 1914. 
Phase 2 (mid-19th century): This phase of building activity is represented by the gabled structure attached to the northeast-facing elevation of the western range, of flint masonry and brick construction with a weatherboarded frontage.  This ancillary structure comprises two compartments which probably housed a cow house and hay store and appears to have been built at some point between c.1840 and 1869.  This extension reflects an increasing emphasis on livestock husbandry at the Farm during the mid-late 19th century. 
Phase 3 (Mid to late 20th century): Evidence of various mid-20th century alterations is represented by the addition of the chimneystack, fireplace and window at the northwest end of the western barn (possibly associated with the provision of accommodation during the Second World War), as well as other internal alterations.  The ancillary structure attached to the northeast-facing elevation of the western range appears to have been partially rebuilt in brick at this time. A later sub-phase of activity is represented by the construction of the existing modern concrete portal-framed cattle shed, which can be dated to c.1960-70. 
Results
Conclusion: In brief, the surviving complex of agricultural barns at Bagden Farm have been subject to extensive alteration and additions but retain some evidence of historic fabric dating back to the late 18th century, which may be regarded as being of limited local significance in architectural and historical terms.