Detailed Archaeological Investigation
Building on a long-standing partnership with the Water industry, we completed a programme of detailed archaeological investigation for timely completion of supply network upgrade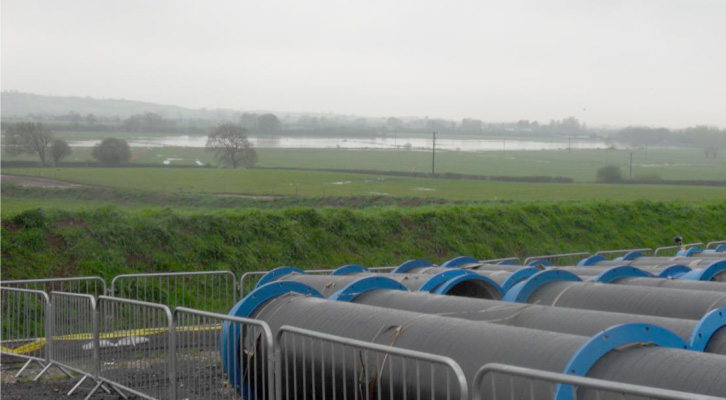 In Brief
Client:
Bristol Water plc
Sector:
Infrastructure; Utilities; Water
Services:
Location:
Axbridge to Barrow, Somerset
Key Points
Multi-period landscape
Archaeological investigation programmed for minimal delay
Challenging flood prone landscape
Several preserved prehistoric wooden artefacts and remains of a domestic Iron Age cat unearthed!
Work completed on time and on budget
Regional Public Presentation of findings consistent with client CSR
Summary
When archaeological monitoring of 1.8km of replacement water main revealed a multi-period landscape to the south of the medieval town of Axbridge in Somerset, our proactive response in consultation with Bristol Water management and engineering staff enabled us to programme the required archaeological investigation and recording with minimal delay.
The pipeline ran across Axbridge Moor towards Cheddar Reservoir Pumping Station. Working in a challenging flood-prone landscape, we completed our work on time and on budget, recovering several preserved prehistoric wooden artefacts, together with the remains of domestic Iron Age cat!
As an important medieval commercial centre, Axbridge would have relied on river barges to import goods and evidence was found of medieval dredging, suggesting the existence of a wharf. Use of the plough to cultivate the large medieval open fields was very evident, with indications shown of periodic flooding during the late 12th-early 13th century and of measures to mitigate its effects.
The detailed picture of a thriving trading centre that flourished from the late 12th/early 13th Century to the 16th century made a compelling story which we presented to the local community, the popularity of the event necessitating its scheduling over two evenings
Results
Detailed Archaeological Investigation completed on time and on budget. Programme of Public Presentation show casing Regional importance of results engaging hundreds of members of the public with their local heritage