Heritage Impact Assessment, St Michaels Church, Winchester
A Heritage Impact Assessment was undertaken regarding the potential archaeological and built heritage impact resulting from the proposed re-ordering, upgrade of services and refurbishment of St Michael's Church, Kingsgate Street, Winchester, a Grade II* listed building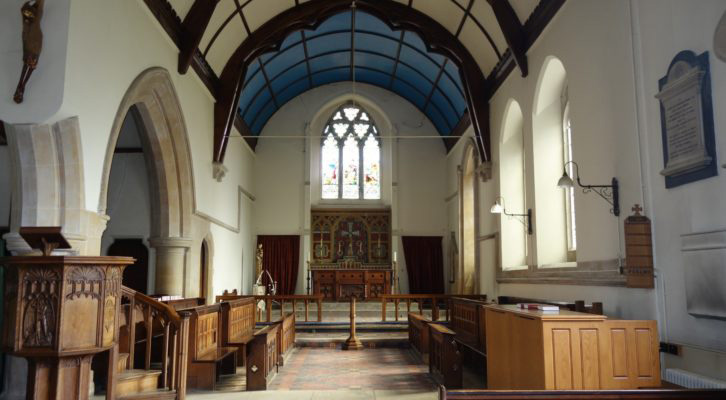 In Brief
Client:
Winchester College
Sector:
Historic Buildings
Services:
Historic Impact Assessment (Archaeology & Built Heritage); Listed Building Consent
Location:
St Michael's Church Winchester
Key Points
Sensitive site – Grade II* Listed building
Potential impact on archaeology & built heritage assessed and suitable mitigation proposed
Positive response to our assessment from Winchester City Council
Planning application (including Listed Building Consent) approved, enabling works to proceed
Summary
In 2018, we undertook a Heritage Impact Assessment regarding an application for proposed alterations to the interior and exterior of St Michael's Church, Kingsgate Street, Winchester, a Grade II* listed building of medieval origin currently used as a chapel for students at Winchester College.  The assessment examined the potential impacts on historic fabric of the church and buried archaeological remains which could result from the proposed works.
Built Heritage: The church retains evidence of medieval fabric although its present appearance is largely the result of restoration work carried out by the noted Victorian architect William Butterfield. The assessment concluded that the proposed works will have a Neutral to Slight impact on the church as a heritage asset, conserving and enhancing much of the fabric and will secure its optimum viable use.  Concerns were raised about the removal of the majority of the carved wooden benches in the nave, designed by Butterfield. However, it was agreed that a number of the benches should be retained and photographic recording should be carried out prior to removal.
Archaeology: It was determined that there was Moderate to High potential to encounter archaeological remains of medieval and post-medieval date both within and outside the church, which could include earlier floor surfaces and wall footings and evidence of buried human remains of medieval or post-medieval date.  BA thus advised that a programme of archaeological observation should be undertaken on the proposed groundworks, both within and outside the church.
Results
The HIA we produced was received positively by Winchester City Council and planning approval was granted enabling works to proceed