Programme of Archaeological Work, Herefordshire
We undertook a programme of archaeological work at Stretton Grandison, Herefordshire for Laing O'Rourke on behalf of Dŵr Cymru Welsh Water as part of the Ledbury Trunk Main scheme.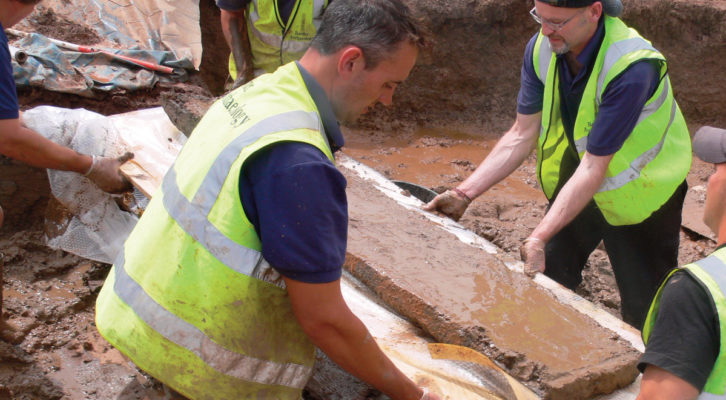 Our Archaeological Desk-Based Assessment informed a 2 phase programme including Watching Brief (Archaeological Observation) and Excavation. Observation of topsoil removal and open-cut trenching from the covered reservoir at Canon Pyon to Withington was followed by Excavation of 13 engineering access pits between Yarkhill and the known area of Roman urban settlement near Stretton Grandison.
View our report here: ADS Grey Literature Library
Key Points
14.5km of new pipeline within a sensitive landscape
Watching Brief of trenching and Excavation of 13 engineering access pits
Multi-period activity identified
Roman burials uncovered near Stretton Grandison
Results
Late 1st-2nd century AD finds included a stone lined well, pottery kiln, ditches and pits associated with two burials in wooden coffins, one may have been partially decomposed before burial, suggesting ritual 'excarnation' or prior exposure to the elements.
Further cremations and burials may suggest a local family group connected with a farmstead or villa.
A later phase of use from the mid-4th century to c. 650 AD included an adolescent buried face-down with clear evidence of decapitation, either in battle or execution.
Successful completion of archaeological works enabling engineering to proceed….